wood boiler, woodboilers, wood burning boilers, wood boiler, woodboilers, wood burning boilers, wood boiler, woodboilers, wood burning boilers, wood gasification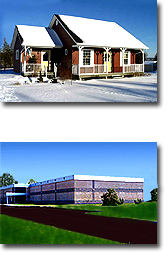 Buy an Econoburn™ wood boiler and start
saving hundreds, even thousands of dollars
on your yearly heating and hot water bills!
Are you heating your home or business with gas, oil or electricity?
Tired of paying astronomical ever rising winter energy bills?
If you are like most people, you have watched energy costs
skyrocket in the last few years. Well guess what?
Prices for oil, natural gas and electricity will only go up. Want to
begin saving hundreds, even thousands of dollars on your yearly
heating and hot water bills?
Buy an
Alternative Fuel Boilers
high efficiency
Econoburn™
wood
boiler for this winter, and get off the rising energy cost
merry-go-round once and for all!
Whether your home or business utilizes radiant floor, forced air, or
a traditional hot water baseboard heating system, our
line of wood boilers will save you money, guaranteed!
Our
patent-pending
wood boilers utilize
gasification
burning
technology to get an amazing 87% thermal efficiency from
traditional wood fuel sources.
Watch our promotional video!
Click here
for a tour.
_____________

Wood Gasification - The Environmentally Sound Choice
Click here
to find out why.

_____________
Safe, affordable heat and hot water for you and your family,
Check out these features...
Solid Reliable Construction
Our wood boilers are constructed of of 1/4 inch ASME grade A36 carbon steel
plate throughout, most seams double welded for strength and durability for
excellent temperature and corrosion resistance. Thermostatically controlled
forced air intake regulates burning, and fuel consumption.
Efficiency
Custom designed high technology refractory improves heat retention, and
transfer. Larger water jacket increases hot water volume, and output. Save
money, and fuel. With almost 90% burning efficiency, use substantially
less wood than burning with conventionally constructed wood boilers.
Flexibility
Install and integrate
Econoburn™
wood boilers with your existing heating system, so when you are not home, your conventional
furnace conveniently runs. When you return home, it's back to the savings! Dry seasoned wood is recommended for top perfomance. Alternately, burn any kind of wood you like, including pallets, chips, clean waste wood, and even Bio Bricks.
A long burn cycle of up to 8-10 hours, means less hassle, more comfort.

Residential or Commercial
An
Econoburn™
wood burning boiler is a money saver in your home, or business. With models ranging from 100,000 to 1,000,000 btu output, our boilers can easily supply heating and hot water needs for your shop, warehouse or any other industrial application.

Safe and Environmentally Friendly
Our wood boilers burn cleanly, with little creosote or ash, almost eliminating the risk of chimney fire. With virtually no exhaust gases, they help ease the burden on the environment, and greenhouse gas emissions, while burning wood, nature's oldest renewable fuel.

Econoburn™ wood boilers are manufactured to ISO 9001:2000 Certified standards.
Our strict adherence to worldwide industry standards in processes and materials guarantees you are buying the best built wood boiler available anywhere!
Click here
for more information...
50 years of manufacturing excellence guarantees you fuel efficiency,
reliability, and substantial savings!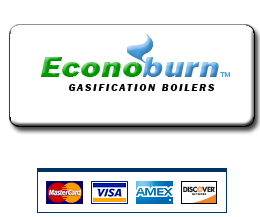 Alternative Fuel Boilers
, a division of
Dunkirk Metal Products
, is proud to offer you our
Econoburn™
line of wood gasification boilers.
Established in 1946,
Dunkirk Metal Products
combines over 50 years of metal fabricating experience, with state of the art manufacturing technology, including lasers, turret presses, and automated welding systems, to deliver a superior wood boiler product, custom designed and
made in the U.S.A
.
Our facilities have received the
ISO 9001-2000 Certification
, the world
standard for manufacturing quality.
Our experience, superior technology and dedication to quality guarantees our wood boilers will provide your home or business with a safe, convenient source
of heating and hot water, and substantial savings for years to come.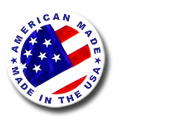 Click here
to see how an
Econoburn™
boiler can save you money this winter.