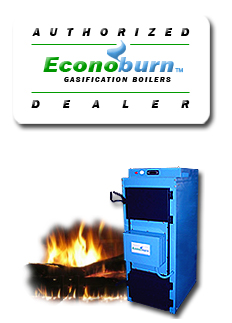 Want to offer your customers the best built and most efficient wood boiler on the market?
Are you presently offering wood fired heaters, and other alternative fuel heating products to your customers?
Alternative Fuel Boilers
is seeking experienced, qualified firms to sell and install
Econoburn™
wood gasification boilers.
The
Econoburn™
wood fired gasification boiler is one of the most efficient and cost effective methods of home and commercial heating.
With over 50 years of metal fabricating experience, and state of the art manufacturing technology, including lasers, turret presses, and automated welding systems, we deliver a superior furnace boiler product, custom designed and
made in the U.S.A.
Product Features
1) Superior overall construction and reliability.
2) The best electronic combustion control units in the industry, which control not only the internal boiler water temperature, but water flow within the boiler for more efficient operation, heat generation and transfer throughout the system as well as maintaining failsafe overheating protection.
3) Robust overbuilt refractory which is the real key to gasification fuel efficiency, and combustion maintenance.
4) Our buying power allows us to deliver the highest quality boilers on the market, at a reasonable dealer cost, maximizing seller profit.
5) Automated manufacturing processes allow us to promptly deliver completed product to our dealers.
6)
UL
and
ASME
safety and engineering certifications, unique in the gasification boiler industry.
Dealer Agreements
We offer two types of
Econoburn™ Authorized Dealership Program
agreements.
RESIDENTIAL
The boilers available under this agreement are the
Econoburn™
EBW100
(100,000 Btu's),
EBW150
(150,000 Btu's),
EBW200
(200,000 Btu's), and the
EBW300
(300,000 Btu's).
COMMERCIAL
The boilers available under this agreement are the
EBWC300
(300,000 Btu's),
EBWC500
(500,000 Btu's), and the
EBWC1000
(1,000,000 Btu's). Custom boilers, built to customers specifications are also available.
These models will offer
ASME "H" Certifications
as well
An individual dealer may apply to represent both boiler lines, but must stock a commercial unit in addition to the basic stocking order.
Dealer Training and Plant Tours
Product and marketing training is available to all dealers at the plants in Dunkirk, NY and Brocton, NY. Our Dealership program includes:
Ongoing support offered by qualified technicians.
Website generated sales leads
Promotional materials
Protected territories
Co-op marketing Public Relations Program
Qualified dealers will be required to fill out a
Dealer Information and Credit
application. Decisions will be made on the basis of financial qualifications, technical expertise, and your ability to achieve sales objectives.
If you would like to make an application, or require additional information regarding our
Econoburn™ Authorized Dealership Program
, please fill out the form below, or contact:
Bill Raines President / CEO
Alternative Fuel Boilers
LLC
Call Toll-Free 1-866-818-5162.
*
Denotes a required field.
Click Here to close this window.