wood boiler, woodboilers, wood burning boilers, wood boiler, woodboilers, wood burning boilers, wood boiler, woodboilers, wood burning boilers, wood gasification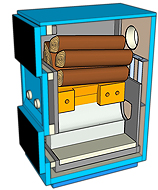 How wood gasification dramatically increases burning efficiency and saves you money...
Wood has long been used as a readily available and relatively cheap source of fuel. Traditionally, wood has been the only real alternative to electricity, oil, and gas.
In conventional wood fired boilers, after the initial burning of the fuel, a large amount of combustible gas is released. This gas accounts for an amazing 50% of the wood fuel energy.
Unfortunately, due to inefficient combustion, conventional wood boilers fail to capitalize on
this abundant fuel energy; in fact most of it is lost up the flue!
Econoburn™
wood boilers utilize a combustion technology called '
Gasification
' to capture,
extract and transfer this energy that typical wood boilers simply waste.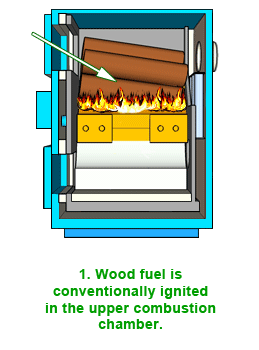 The gasification process...
As the wood is burned in the firebox, fresh air is blown downwards through the logs and coals. As this hot smoke and air mixture is forced into the combustion chamber, it is mixed with a second jet of super-heated air.
This results in a torch like combustion of the retained gases, at
spectacular temperatures exceeding 1800 degrees.
The result: almost all the gases are burned, with little residual soot or creosote, and the extra energy extracted is transferred to a full jacket
heat exchanger. This extraordinary process allows
Econoburn™
boilers to achieve overall thermal efficiencies of nearly 90%!
This translates quite simply into more hot water for heating and
domestic uses, almost complete fuel efficiency, and
significant savings in your yearly fuel bill.
Click here
to view a video of the
Econoburn™
wood boiler in action.
Applications and Installations
In your home or business,
Econoburn™
wood gasification boilers can be:
1) Installed as the main boiler; or
2) Easily integrated with your existing heating and domestic hot water system, creating an
auto-backup system. This allows your existing heating equipment to conveniently run
when you are unable to reload your
Econoburn™
boiler with fuel.
Econoburn™
boilers are compatible with most popular heating systems, including existing boiler systems
for baseboard, forced air, in floor, and separate unit heaters popular in commercial installations.
Our boilers can also be integrated with your water heater system to supply your domestic, or industrial hot water
needs. As well, we can provide heat exchangers for recreational devices such as pools and hot tubs.
Check out the diagrams below.
Existing Boiler Systems
The
Econoburn™
unit can be directly hooked up to any existing boiler, supplying the heated water to the system, utilizing existing pumps and thermostat controllers, while the existing boiler remains as a backup, ready to engage
when the
Econoburn™
unit can not be reloaded with fuel.
---
Forced Air Systems
By installing our optional heat exchanger in the ductwork above your existing exchanger, our
Econoburn™
boiler can integrate seamlessly with your gas or oil forced air heating system. When you are away, your existing thermostats will trigger
your old system back into action until you return.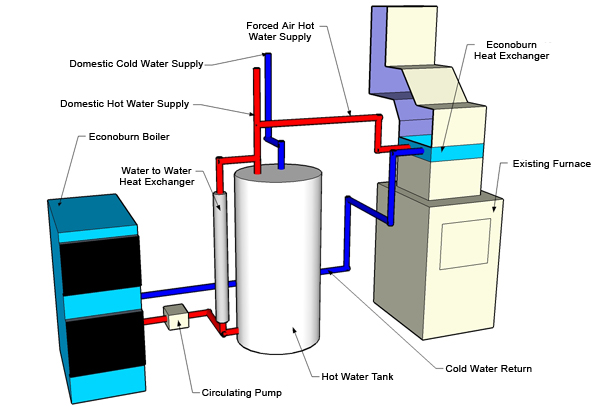 ---
Commercial Unit Systems
Install as many of our optional fan driven heat exchange units in your business, warehouse, shop, or factory as you require. With models available rated up to 1,000,000 Btu's, an
Econoburn™
wood gasification boiler can meet all of your
commercial heating and hot water needs, while you save money!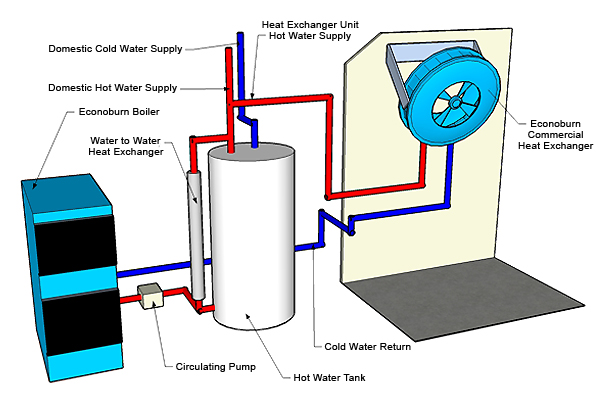 ---
Custom Boiler Systems and Solutions
Your commercial or industrial heating system needs may require a custom solution. Whatever your special requirements may be,
Alternative Fuel Boilers
can design and implement a custom heating and hot water supply solution for your business.
State of the art manufacturing facilities, and almost 50 years of metal design and fabricating experience guarantees that we can provide you with an efficient, reliable, and money saving solution.
Click here
to contact us for a consultation on your commercial heating and hot water project.
Click here
for our
Econoburn™
wood boiler product line, options and specifications.