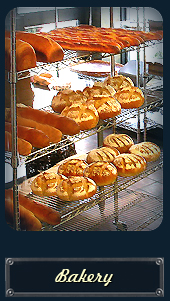 Artisan baked Baguette
is just the beginning...
La Boulangerie du Village is proud to provide a
weekly selection of over 125 classic handmade
European breads and rolls.

Choose from our signature "Baguette", and our daily featured fresh baked Artisan specialties. As well, a tantalizing selection of fresh made daily sweet delights,
including Gateauxs, Tarts and Pies, Muffins. Croissant
and Pastries are also available.


For more information on daily baked offerings,
check our Weekly Bread Schedule below.
Our Bread Selections...
La Boulangerie du Village bakes a wide variety of Artisan breads
daily. These are some of the classics...
French Baguette
This traditional and classic loaf captures the heart and soul of
France, where they are wrapped around the middle with a small
piece of paper for the consumer to carry.

In France, Artisan Bakeries are an integral part of daily culture. One would stop by their local boulangerie to pick
up bread in the morning for breakfast and lunch, and again in the evening. Typically, only enough bread
needed for the day is bought, ensuring fresh flavour and texture.

We use traditional methods, and only the finest natural ingredients to ensure each
Baguette we create is of the highest quality, with a crisp crust and a soft, flavorful crumb.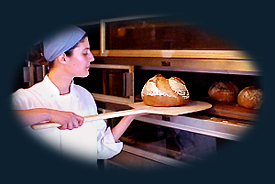 Croissant
Rich and buttery, with a light inner texture, combined with crisp outer layers give the Croissant a truly authentic taste.

Originally, the Croissant was made from a rich bread dough. It wasn't until the early 1900's that a creative French baker was inspired to make it with a dough similar to puff pastry. We create our delicious Croissant in it's classic flavor, as well as Chocolate and Almond dessert variations.

Pain de Campagne
This is usually a big rustic loaf (campagne means country) with a thick crust.

WEEKLY BREAD SCHEDULE
La Boulangerie du Village
bakes a selection of tantalizing ethnic breads
Monday thru Saturday
. Chef Bob makes approximately 127 varieties bread from around the world. Every day there are new breads for you to choose from. Saturdays have become
"Black Russian Bread Day"
along with our popular
Almond
,
Chocolate
or
Cheese Croissants
. Come on in and say hello and check out the offerings for the day.
Pain de Mie
Mie means the interior. This soft sweet pullman loaf is the original sandwich bread.

Light Rye
Done the traditional North American way, this bread does not contain Caraway and has a light, tasty touch of rye flour.

Calabrese
The classic southern Italian loaf, with well developed crust, and an airy resilient, tasty interior. Perfect for bruschetta, sandwiches, and soup.

La Moona
A delightful French Sweet Bread unlike anything you may have tried before. 'Unusual' perhaps best describes the ingredients. These
include Lebanese Rose Blossom Water, Pearl Sugar, Orange and
Lemon Peel soaked overnight in Grand Marnier, as well as milk
and eggs. Delicious for breakfast, or a sweet treat anytime.