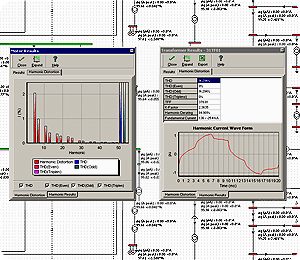 Harmonic Analysis

Improving System Reliability
Harmonic Analysis is a critical factor in maintaining a reliable power system. The application of AC and DC adjustable speed drives, inverters and other non-linear equipment can generate harmonic currents that interact negatively with system impedances.
The resulting harmonic currents can cause equipment failure, nuisance clearing of fuses, transformer overheating, and motor heating.
The IEEE 519 standard defines acceptable system harmonic levels.
DTS
can implement this study to help determine if all or part of a distribution system is IEEE 519 compliant.
The harmonic study accurately analyzes the system and through the data gathered,
DTS
will recommend corrective measures, including the design of harmonic filters and traps. In addition we can specify the proper equipment to handle any heating or other ill effects caused by harmonic currents.
Need more information? Click here
to contact us now.