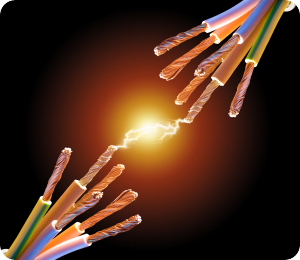 Short Circuit Analysis
Fault Analysis - Current Regulation
A Short Circuit Analysis is a critical component required for the safe, efficient and reliable operation of electrical distribution systems. Problems arise when electrical fault energy exceeds the interrupting rating of the protective device (e.g. a fuse, breaker, etc…) and can result in a catastrophic outcome when called upon to clear the fault.
The consequences can include personal injury, damaged electrical equipment and costly downtime. A short circuit study will help establish the proper interrupting ratings for the equipment on the system protecting both personnel and equipment.
Diversified Technical Solutions
performs calculations for your system to determine the fault current duties and compares this information with the ratings of the equipment in your
systems such as breakers, fuses, and starters.
DTS
will also determine if the withstand ratings of other equipment such as busway, cables, transformers,
and disconnect switches are acceptable for their duty.
Need more information? Click here
to contact us now.