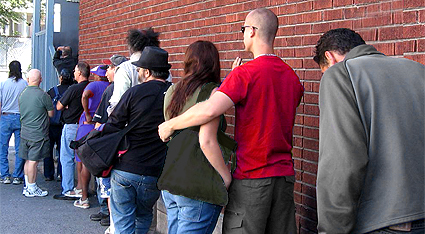 Services and Facilities
Offering Shelter - Meals - Chaplaincy - Referral
The Salvation Army Sudbury - New Life Centre offers emergency residential and sheltering services to men in need 24 hours a day, 365 days a year.
Services available depend upon the needs of the individual.These include emergency shelter beds, short and longer term private accommodations in 18 private rooms, 3 nutritious meals a day for all residents, as well as washroom and shower facilities for residents.
The eligibility policy for Men's Residential Services requires that individuals must live independently in the shelter service, be without restriction due to past actions, and not be under the influence of drugs or alcohol.
Nutritious meals are served for breakfast, lunch and dinner seven days per week, and are open to the community for a small fee except for lunch on Sundays which is free.
Emergency Shelter for Men
Open 24 / 7 / 365 Days a Year
18 Private Rooms
3 Nutritious Meals a Day
Chaplaincy Services
Referrals to Other Service Providers
Support services include counseling, advocacy and referral services, chapel and chaplain services. Sheltering services may also be available for fathers and their children if criteria is met. Women's and family services are available through our Cedar Place Women and Family Residential Services.

Free Bread Daily (when available)
Chapel Service 6:00 PM Sundays
Free Community Meal 12:00 PM Sundays
Spiritual Counseling
Weddings/Funerals
Meals for Non-Residents $3.00
Coffee and Donuts in the Evenings

Need more information? Click here
to contact us now.