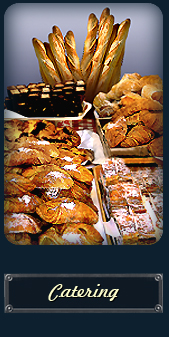 We'll bring Artisan quality
And fine taste, to you...
Bring the distinctive flavour of our Artisan baking tradition to your friends and guests
at your next important function. Whether you are planning a corporate meeting,
or casual party, let La Boulangerie du Village cater your event.

Choose from platters of our existing menu items,
or let us help you plan a distinctive menu for
your special event. Choose from a variety
of freshly created Sandwiches, Salads,
Soups and outstanding Pastries
and Desserts.

Our traditional baking, and savoury
dishes will bring a sophisticated and
wholesome flair to your next gathering. Ask
us about our custom designed Artisan bread wreaths and braids.

Contact La Boulangerie du Village now for a custom designed catering
solution for your special day.



Catering delivered fresh to your home or office...

La Boulangerie du Village has quickly become one of the preferred Caterers in Sudbury.

We specialize in FRESH! Sandwiches and Pastries and Soups are made from scratch to insure we challenge your palate with the Boulangerie experience.

See below for our daily catering service packages.