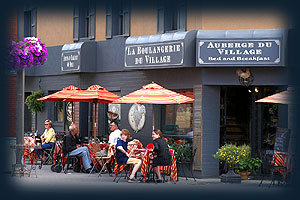 A True Boulangerie,
In the Heart of the Village...
A first for Sudbury, La Boulangerie Du Village, an authentic Old World Artisan Bakery, and World Famous Deli, in the heart of the Downtown Village. From the Tradition of the French Culinary Institute, a selection from over 125 classic handmade European breads and pastries, baked fresh everyday for you!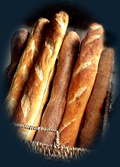 Bread from Heaven,
Baked by Hand, Fresh for You Daily...
Enjoy daily, fresh Parisian Style Baguette, and choose from a weekly rotating selection of delicious regional specialty breads such as Jewish Caraway Rye, rustic German Sourdough Landbrot and Zwiebrot, Italian Calabrese Toscano and Foccacia, Russian Black Bread, as well as classic French Bordelais, Pain De Campagne and light & flaky Croissants.


Introducing...
Our World Famous Deli...
As well as serving the North's finest Artisan bread and baked goods, La Boulangerie du Village also offers fresh & delicious sandwiches, salads, platters, meals & continental snacks through our World Famous Deli.

A mouth watering selection of deli sandwiches awaits you, including savoury Smoked Meat, Veal, succulent Porketta, divine Black Forest Ham, and new spins on traditional favorites such as Egg, Tuna & Salmon salad, all served on our own delicious Artisan style breads, and buns.

To accompany your deli delights, La Boulangerie Du Village exclusively serves fresh roasted coffees from the World's recognized roasters.

La Boulangerie du Village is known for their highest quality hand selected blends of coffee, using only 100% Arabica beans, delivering over a dozen exclusive roasts, and flavors for your drinking pleasure.

To complete your World Famous Deli experience La Boulangerie offers a tantalizing selection of fresh made daily sweet delights, including Gateauxs, Tarts & Pies, Muffins, and unforgettable Pastries.

Custom catering and orders are available for special events and occasions. We would love to help make your event delicious, and unforgettable. Contact us now!