Delicious Hand Crafted Artisan Chocolates and Confections on Manitoulin Island...

The finest ingredients, state of the art equipment and traditional techniques.
Hand crafted artisan chocolates on Manitoulin Island?
Unbelievable but true and so delicious!
Manitoulin Chocolate Works uses only the finest ingredients, traditional techniques and state of the art equipment to create sumptuous, irresistible chocolates and confections. Our hand made products are carefully created in small batches using the highest quality Belgian Callebaut chocolate.
All of our Signature Chocolates are crafted with great skill and artistry using only the finest ingredients from around the world.
An essential destination for chocolate lovers, a visit to our shop and a taste of our exceptional hand crafted chocolates has become a tradition for visitors to Manitoulin Island and locals alike.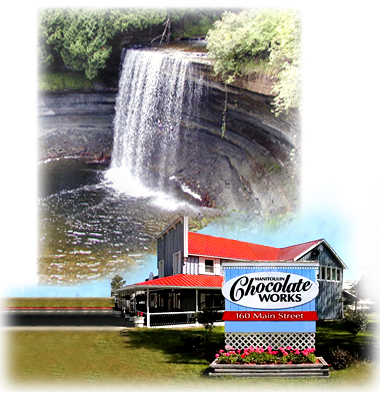 Manitoulin Chocolate Works is located in the heart of Manitoulin Island in the village of Kagawong, one of the island's most popular destinations, nestled beside the picturesque shores of Lake Huron. Come walk the trail from beautiful Bridal Veil Falls, follow the river path, and end your journey on the steps of our shop.
Indulge your senses with our freshly made Signature Chocolates, confections, exclusive fresh roasted Manitoulin Blend coffee, imported English teas, and browse our selection of specialty treats and sweet & savoury gourmet items.
A stop at Manitoulin Chocolate Works will make your next trip to Manitoulin Island a delicious and unforgettable experience!
Love chocolate? So do we! Click here
for our story.