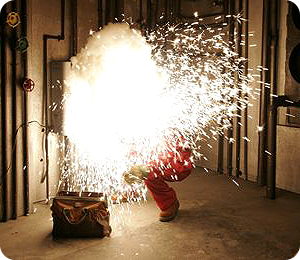 Arc Flash Studies
Personal Protective Equipment - Training - Warning Labeling
A relatively new standard in employee protection against the dangers associated with the release of energy caused by an electrical arc is defined in the USA by NFPA-70E. This has been recently harmonized by the CSA-Z462 standard in Canada.
This will allow for the implementation of an arc flash safety program including the definition of the Personal Protective Equipment (PPE) level required, communicating the safe approach distance to exposed energized equipment through a warning label system, and other associated training.
Diversified Technical Solutions
Arc Flash Study will recommend:
Recommendations for PPE based on results of the study. We can also supply PPE through our safety suppliers
Training personnel on the proper use of PPE, limits of approach and full understanding of the hazards of arc flash
Training on site or at the DTS training facility in Sudbury, Ontario. Certificates of training are provided to the client for all attendees
Written report of study results in a clear, comprehensive format
Supply of Arc Flash warning labels for distribution equipment
Need more information? Click here
to contact us now.